LS Energy Solutions is your ideal partner.
Are you looking to partner with a systems integration expert that can provide you a complete and integrated energy storage solution? Or are you looking for advanced energy storage system components for your own integration? Either way, LS Energy Solutions is your ideal partner. 
Combining LS Energy Solutions' advanced energy storage power-conversion systems (PCS), software, and integration capabilities with LS ELECTRIC balance of system (BOS) components like switchgear, circuit breakers, and contactors makes LS Energy Solutions a convenient and cost effective one-stop shop for your energy storage system needs.
BRiC bidirectional string inverters
The PowerBRiC (Bi-directional, Resilient, intelligent Converter) is our third generation bidirectional string inverter for energy storage and the fundamental building block of our integrated storage systems. 
With industry-leading power density, the PowerBRiC inverter offers the patented ability to parallel the inverter on both AC and DC sides, making it easy to configure multiple inverters into larger units up to 3MVA. The PowerBRiC can operate from 200 VDC up to 1350 VDC, making it compatible with most current and future energy storage technologies. 
Air-cooled, the PowerBRiC can operate in environments up to 55°C/131°F (with derating), making it suitable for most applications. The BRiC also features optional grid-forming capability making it suitable for use in microgrid, backup power, and resiliency applications.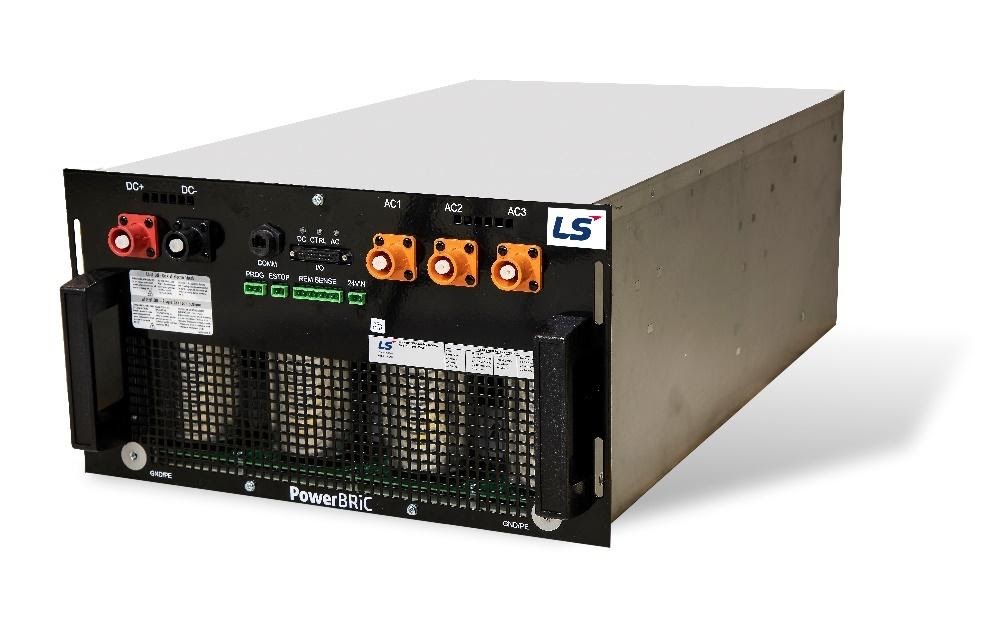 The modular PowerBRiC architecture comes with multiple advantages:
The LS Energy Solutions' "All-in-One-BRiC" solution is a compact, stand-alone energy storage solution housed in one easy-to-site enclosure.  The All-in-One-BRiC solution comes in 1-, 2- or 4-hour duration options, suitable for both large C&I applications as well as front of the meter applications. 
The solution consists of a custom 40' container and includes batteries, inverters, HVAC, fire protection, DC and AC protection devices up through a medium voltage transformer. The All-in-One-BRiC is ready to communicate with your control system or EMS. If preferred, LS Energy solutions can also provide a 3rd party EMS.
The All-in-One-BRiC solution is built around the PowerBRiC string inverter, which is the third generation of bidirectional energy storage string inverters by LS Energy Solutions. The string inverter architecture comes with several advantages:

Backed by decades of industry experience, LS Energy Solutions aftermarket and service teams support projects for all your aftermarket and service-related needs. Whether the need is training, commissioning assistance, preventative maintenance service, spare part and warranty support, or remote diagnostics and troubleshooting, our experienced personnel are ready to lend a qualified hand. LS Energy Solutions is always available to support our customers and offer easy-to-reach global technical support.